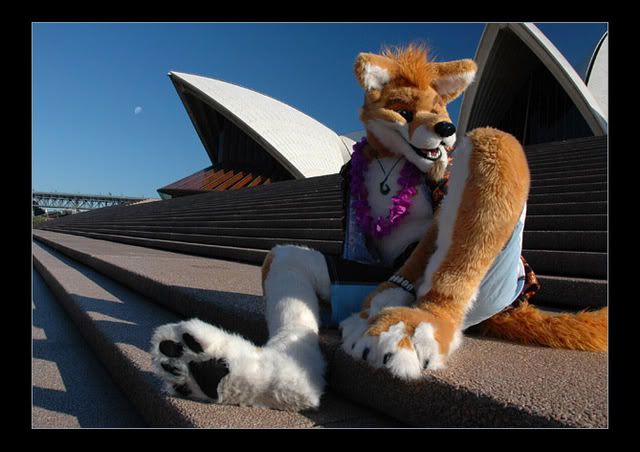 Diego made a trip recently to Sydney and managed to crawl all over one of it's famous landmarks.
And.... *drumrolls*
We're very happy to say that
Dog's Days of Summer has been listed in the October editions of Diamond Comics Previews!
I urge you if you're ready, willing and able to hit your nearest comic book store and ask them to order the Dog's Days of Summer graphic novel! Tell the manager to look it up in Diamond Previews in the graphic novel section, and that it is awesome. Help spread the word of anthropromorphic arts in it's slow but steady progress toward world domination! (have I said too much? Bwhahahah!)
(And for the record, since it's bound to be asked, I make about 25 cents per copy sold wholesale. It'll take a lot of copies sold to fund my secret hideout inside a volcano on a remote desert island where I can further scheme my evil plots, so get cracking!)
You have until the rest of October to refer to the book in Diamond Previews,
otherwise
, you can hit your nearest bookstore and ask them to order the book by it's
ISBN:978-0-9791496-7-2
. You can do that right now, next week, next month--whenever. You can also go to your local public library and ask them to order the book!
If you just want to get your paws on a copy, you're still more than welcome to order straight from the publisher,
Sofawolf Press!
They ship worldwide and will have it to you right quick!
So, the plan of attack:
-Go to Barnes and Nobles/Red Letter/Borders/whatever to their book ordering/information kiosk thingie.
-Tell them to order a copy of the
graphic novel
, Dog's Days of Summer, ISNB:978-0-9791496-7-2 by "Blotch"
-Give them a suitably hilarious fake name, such as "Justin Case" or "Robin Banks"
-Vanish, never to return so they put the comic on the shelf for sale.
-Some poor unsuspecting person sees the book. Their mind is corrupted and they run out to buy themselves a tail and create a suitably unique sparkledog fursona that incorporates their individualist identity.
-Cycle of furry propagation is complete.
-World domination is ours.
Much obliged! >:]
Cheers!
-Blotch